Cyber Security Risk Management
Enabling
Risk is inevitable. Poor risk management inhibits growth, digital transformation and access to new markets. With a comprehensive management system, you gain visibility of your risks and their potential impacts to your business, enabling you to take decisive action to protect your assets.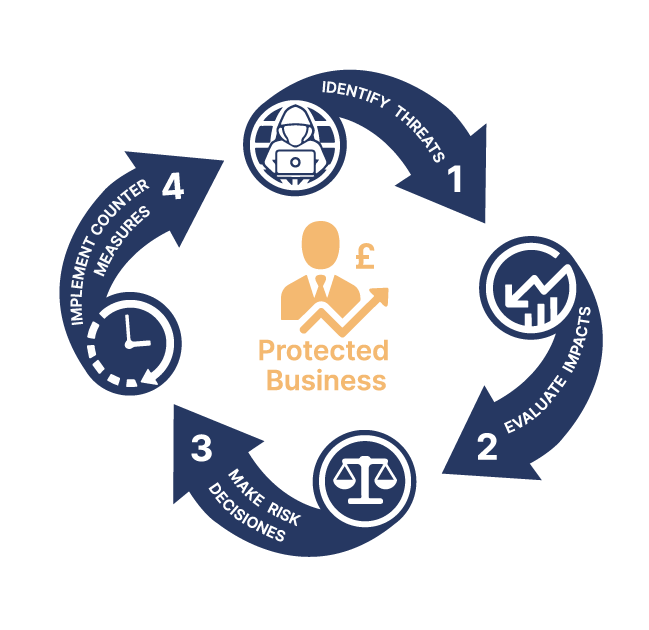 Business Focused
Decades of experience across diverse industry verticals positions us as your perfect cyber risk management partner. Nicolson Bray takes a business-driven approach when assessing your operations, IT infrastructure and current industry threats, presenting technical information in a business-focused format, so you can understand the potential impacts to your company and clients.
We advise you on affordable and effective counter-measures to improve your defence, and provide you with clear reporting to help your board make informed decisions to positively impact the future of your business.
Contact Us
Identify, assess and remediate your risks with flexible security strategies which adapt with your business.
Our Risk Management Services
Policy Development
Defining a security policy tailored to your business to reduce cyber security risk in a manner which is pragmatic and flexible. Maximise your business output with intelligent guidelines for your operations and infrastructure.
Risk Framework Development
Establishing processes and tools to manage cyber security risk on an ongoing basis. Providing your operations with a safe base from which to grow and evolve. 
Risk Remediation
Planning and validating risk remediation to ensure cyber risk is properly mitigated. Leveraging existing technology spend where applicable to maximise your budget and develop cost-effective remediations.
Risk Assessment & Reporting
Ongoing identification and assessment of cyber security risks. Detailing risk to senior management and IT stakeholders to enable more informed and effective decision making to improve the resilience of your operations.